Explore these everyday stories from people living with PNH
Each PNH community member featured on this page was compensated by Apellis Pharmaceuticals, Inc. for the time required to share their story.
< Back to all stories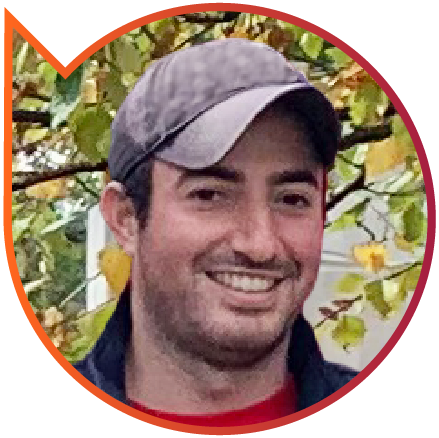 Redefining
my limits
When I was first diagnosed with PNH, I couldn't help but think of the long-term big picture. How was this going to affect me as I got older? What did this mean for my future? These questions haunted me, but as I learned more about PNH and how science has advanced, I was more hopeful for the future.
I was determined not to let this disease force me to settle in life. I am currently 28 years old, and I still have all the goals I had before my diagnosis – climbing a mountain, traveling the world, and reaching new career milestones. I knew I might not accomplish all those things and that my goals might need to change, but even to attempt them, I had to be mentally strong, positive, and understanding of my limitations.
I looked to my doctor to better understand certain limitations I had and to discuss where it might make sense to push them and set new limits for myself.
Being proactive with my doctor about what I wanted to accomplish in life has been incredibly helpful for me and is something I encourage others living with PNH to do.
Each goal and aspiration I set out to accomplish can't happen overnight. I must take one step at a time. By taking things one day at a time and feeling more comfortable with my surroundings, I can take steps in the right direction. My goal is to be mentally strong and only exert energy when needed. I don't have to go to every event or push my body when I'm feeling overly fatigued. I feel comfortable saying no and explaining why to my friends and family so they can better understand my journey.
To achieve my bigger goals, I have to say "yes" to more things that define who I am and bring me happiness. It was after I started saying "yes" to the small things like social events and exercise classes with a friend that I realized that not only could I reach the goals I set for myself before my diagnosis, but I could likely surpass them. They might be harder to accomplish because of my PNH, and I know I need to check my plans with my doctor, but that doesn't mean they're impossible.
I can redefine my limits while still respecting my limitations.
I know now that my positive outlook and determination will keep me from settling for a life that's just okay. What's going to motivate you to keep pushing?
The above represents a real person living with PNH, telling their story in their own words. This individual was compensated by Apellis for the time required to share their story. Every person's experience with PNH is unique. This story does not include individual treatment or medical advice. You should speak with your doctor about questions you may have about PNH, its symptoms, and treatment.
6/23 US-PNH-2300076 v1.0
< Back to all stories