Explore these everyday stories from people living with PNH
Each PNH community member featured on this page was compensated by Apellis Pharmaceuticals, Inc. for the time required to share their story.
< Back to all stories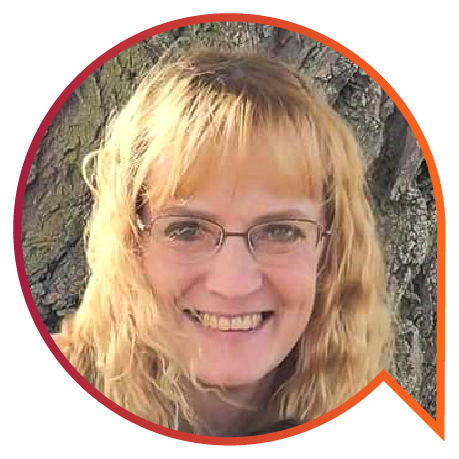 Rediscovering
myself
So many things change when you are given a diagnosis like PNH. You wonder what it means for your everyday life and future. I found myself saying, "Okay, I have PNH…now what?!" But I took time to absorb, digest, and come to terms with it. I learned all I could about the disease, talked to my doctors about what I wanted, built my community, and decided to stop letting PNH write my story and do it myself.
Today, I refuse to let PNH define me. I am a wife, mother, grandmother, daughter, sister, nurse, and friend.
While I felt like I was losing so much to this disease, I have an entire lifetime of relationships, connections, and interests that PNH can never erase or take away from me!
For example, I've always loved to garden. It was a special bond that my father and I shared before he passed away. After my diagnosis, I honestly didn't know how I would be able to return to gardening because I was exhausted, in pain, and simply overwhelmed. It felt like I was losing that connection with my dad — yet another thing I was losing to PNH.
Knowing this wasn't acceptable, my husband built me a greenhouse so I could garden without running all over. The container beds mean I can avoid heavy lifting, major digging, and most gardening prep! It's now my sanctuary — a bridge that reconnects me with my dad and our shared love of gardening. It is my source of peace and inner strength, which I need to advocate for the life I want to live. It helped mend my broken heart and allowed me to rediscover my identity. It reminded me how strong I am and that PNH cannot take that away from me.
My PNH brought with it the realization of what is truly important in my life. My focus has turned away from my own struggles and toward my loved ones, whose unconditional love and support humble me daily.
In my PNH, I found a community full of inspirational stories, tips, tricks, and in formation from people who know what I'm going through and who encourage me to continue pushing forward.
I've realized how important it is to prioritize my needs and not let anything take away my dreams. Rediscovering my joy is one of the greatest gifts I could have gotten (aside from that amazing greenhouse!). My story isn't over yet, but thankfully I'm in charge of it from here.
The above represents a real person living with PNH, telling their story in their own words. This individual was compensated by Apellis for the time required to share their story. Every person's experience with PNH is unique. This story does not include individual treatment or medical advice. You should speak with your doctor about questions you may have about PNH, its symptoms, and treatment.
6/23 US-PNH-2300085 v1.0
< Back to all stories