Explore these everyday stories from people living with PNH
Each PNH community member featured on this page was compensated by Apellis Pharmaceuticals, Inc. for the time required to share their story.
< Back to all stories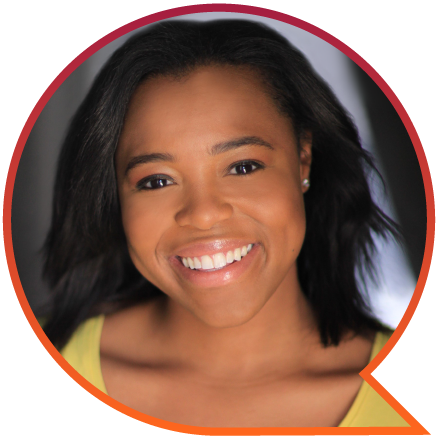 The unmatched feeling
of self-advocacy
Learning to speak up for yourself and use your voice is empowering. When I was diagnosed with PNH, I felt like I wasn't only battling my disease, I was also fighting to figure out who I was and what mattered most to me. I was surrounded by great doctors and caregivers with wonderful advice, but it was important for me to learn how to advocate for my health and myself. I found the easiest way for me to do this was by giving voice to my feelings.
I remember one morning when it seemed like I was finally able to do this. I was sitting in a hospital room, and I felt nauseous. When I told the nurse, she wanted to give me medicine, but I had already taken several medications and really didn't feel like that was the right solution for me in the moment. Then, without much effort, I found my voice and said, "No." It came so naturally to me! I knew what my body needed and was proud I was able to share what I wanted openly.
It may seem small or insignificant, but in that moment, I felt empowered to not only express my feelings, but also to make my own decision.
Finding your voice looks different for everyone, but it's worth the effort.
Here are 3 ideas that helped me. Maybe they'll help you, too!
1. Trust your gut
There was no PNH specialist in my hometown who was well-versed in managing my PNH. I knew I had to find a great team of doctors who understood me, my needs, and the nuances of PNH. My gut told me to research further and create a team of doctors that I could partner with to help me throughout my journey. It worked. I found a blood disorder specialist who partnered with my local doctor to find the best treatment plan for me.
I trusted my gut and took an active role in finding the best care team for me, and we're now all working together to make sure I stay on track.
2. Start small
When I began advocating for myself, I started in small but meaningful ways. For example, I researched PNH and started asking my doctor questions. As I grew more confident, I used my learnings to talk to my doctor about changes I wanted to make. These moments were small on their own, but they built up to me being comfortable proactively talking to my doctor. I was gaining confidence little by little. Over time, I began to advocate for my treatment plan, strengthened relationships with my doctors, and spoke up when I felt passionate about something. I was never scared. In fact, I became fearless in advocating for me.
3. Let others help you
My caregivers and family were great to lean on when I didn't know how to express myself. They had watched me get through every moment living with PNH, so they understood how I felt and what really meant the most to me. On the days I felt tired and weak, I leaned on them to speak up for me. They're trusted partners in this journey, and I couldn't do it without them. Finding your voice takes time, but the empowerment you feel when you confidently speak up for yourself is unmatched. I hope you experience this, too.
The above represents a real person living with PNH, telling their story in their own words. This individual was compensated by Apellis for the time required to share their story. Every person's experience with PNH is unique. This story does not include individual treatment or medical advice. You should speak with your doctor about questions you may have about PNH, its symptoms, and treatment.
6/23 US-PNH-2300052 v1.0
< Back to all stories